Go ahead all together
June 22, 2016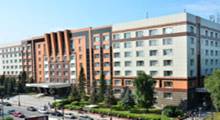 Go ahead all together
Major engineering company with half a century experience is going to persevere through the challenges.
Tyumen based R&D and engineering company for oil & gas named after Viktor Muravlenko was held the staff meeting, where management reported on activities over the last five years and answered questions from employees.
Igor Scherbinin, Managing Director of Giprotyumenneftegaz, PJSC, giving the main report, noted that fall in the global price of oil and, as a result of it, reduction of expenses of minerals developers for geological exploration have an impact on design and exploration work in country.
In fact, in 2015 the Russian oil and gas companies have spent on exploration by 15 percent less than the year before. The physical volume of 2D and 3D seismic surveys, the drilling of exploration wells for individual companies decreased by 8-30 percent. The growth of oil reserves for the year decreased by 6 percent.
In these circumstances, for independent R&D companies (not being a part of large vertically integrated companies), such as Giprotyumenneftegaz, it is more difficult to get the orders from oil companies, accordingly to earn money for further existence and development.
Emergency response measures taken by the Institute in the last two years – "tighten belts" scheme, improvement of motivation system, optimization of the number and structure of staff – help to keep a position in the market that earned for decades of smooth operation. According to Igor Scherbinin, only thanks to these difficult management decisions company saved the design and scientific potential, the basic competencies and the core team.
You should take the market situation as given – said Managing Director of Giprotyumenneftegaz. –Execute the orders and earn money for Institute we can only by joint efforts. Everyday practice shows us a situation when one department is overworked and another underworked, and there are examples of mutual support, interaction, when people think about the general result. This is a real concern about company not in word but in deed.
Against the odds
Despite the decline in turnover, the Tyumen Institute manages to form a good portfolio. For the previous three years there were completed the designs of integrated development of the largest fields, such as Vankor, Novoportovskoye, Kovykta, Urengoy, West Messoyakha and East Messoyakha. An unique experience in the design of facilities in the permafrost zone was accumulated.
Giprotyumenneftegaz receives and successfully executes orders even for those oil companies that have their own design departments (Gazprom, Rosneft, Transneft). Institute is a leader in implementation of innovative technologies in the development of oil and gas condensate fields, but also thanks to using up-to-date software platform MicroStation и AutoPipe (Bentley Systems), Hysys, FLaReNet, Flow-3.
INFORMATION
Giprotyumenneftegaz (Tyumen based R&D and engineering company for oil & gas named after V.I. Muravlenko) is one of the leading R&D engineering companies in Russia.
Company provides integrated field development for the oil & gas companies, being the largest independent company on the research and engineering market for oil & gas industry in Russia and CIS.
Giprotyumenneftegaz has been a part of the HMS Group since 2010.