Surveying
Surveying
Civil Engineering Survey Department exists since 1964 from the moment of Giprotyumenneftegaz foundation. Today Survey Complex comprises:
two survey departments of central office (Tyumen);
five field surveying crews (Nizhnevartovsk, Surgut, Purpe, Noyabrsk, Nyagan).
Surveying personnel is more than 300 specialists.
West Siberia oil and gas fields are area of the surveying division activity.
Field surveying crews are equipped with modern drilling rigs mounted on heavy- and light-duty off-road vehicles, four-wheel drive vehicles. To carry out works in regions difficult to access field crews have mobile wagons, mobile power plants, and satellite phones.
Transport division has more than 40 reliable, modern vehicles including four-wheel drive vehicles with cross-country capacity; tracked cross-country vehicles and snowmobiles.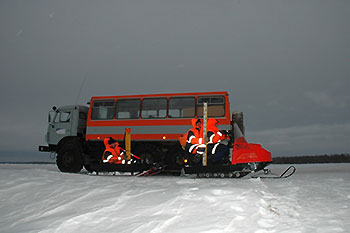 To monitor engine use in the course of field survey all vehicles have GPS receivers with signals to the central dispatcher station.
Topographic-geodetic divisions are equipped with geodetic instruments produced by leading companies such as Trimble, Topcon, Nikon, Leica, Sokkia, Metrotech and others.
Field data are processed using advanced software such as MicroStation, TerraSurvey, Terra Modeler, CREDO-DAT, EngGeo. Survey materials are delivered to the customers using such products as Autocad and Mapinfo.
Office division staff is about 50 specialists. Physical and mechanical properties of thawed, seasonal thawed and permafrost soils are determined in a soil lab.
The lab is equipped with modern measuring and computing complex АСИС-6. It includes:
compression unit;
direct shear unit;
uniaxial compression unit;
ball stamp testing unit.
Frozen soils are tested in special freezers.
Up