IT-technologies
Integrated software platform
Application of integrated software platform for developing design and estimate documentation plays an important role in successful functioning of information system in Giprotyumenneftegaz.
Key software tool in design and survey works is computer-aided design platform MicroStation (by Bentley Systems Company). This platform is used in the institute as a corporate CAD-standard for more than 10 years.
Integrated processes flow for designing was based on this platform, it allows:
automating works (field survey material preparation, development of design and detailed documentation)
carrying out end-to-end concurrent design
GTNG has acquired and uses more than 130 software programs automating design process. Software engineers in Information Technologies Department develop software for automating areas that are not in the market of software for one reason or another, or they are not adapted to specific requirements of our designers. 
System integration
Implementing a complex system of computer-aided design provides for integration of designing and process design calculations. Together with widely known process design calculation software HYSYS the institute designers apply:
software complex FLARENET for automation of flare system design calculations.
software START (by NTP Truboprovod), AutoPipe (by Bentley Systems) for strength design. When designing bridges and bridge crossings with water streams special attention is paid to strength design of bridge and support structures.
software complex FLOW-3D is used for design calculations of support and pile foundations. It allows modeling a wide range of liquid flow conditions, it also helps to simulate behavior of open-channel flows.
According to current international laws and corporate standards the institute specialists use only licensed and certified software.
WEB-portal
The institute has integrated information space based on corporative Web-portal, which provides for:
project document interchange;
joint work of designers on projects;
integrated digital models for projects.
Ready documents are registered in electronic archive and, if necessary, they are sent to the Customer in electronic form with automated collation and issuing a covering letter with list of sent documents.
The portal shows the current state for each project being developed:
terms;
project scope;
obtained initial data;
selected engineering solutions.
Besides, the portal contains information on the institute, employees, news, wide range of regulatory and reference documents etc.
Project and finance management system
Giprotyumenneftegaz pays a great attention to automation of project and finance management.
1С platform is used as a base for budget, finance and personnel management system
System КАС Business Lux based on document interchange system Directum is used for managing the order book
Software Oracle Primavera is used as information corporate system for project management and resource scheduling. It allows creating interaction environment for all project participants
Working in this environment project participants get information on projects, on which they work irrespective of their role – executor, responsible or manager.
Hardware
Information space of Giprotyumenneftegaz is formed by a complex of hardware and software.
Technically, information space is a great number of geographically distributed computers and printing equipment integrated by communication lines and switching facilities into integrated local data-processing network.
To solve of design and survey tasks the institute has more than 20 servers. The system kernel is servers storing main information resources:
servers of data bases for current and archive projects
information server having functions of data base management system and file server
Intranet-server providing easy-to-use interface of access to the company information resources
To store and to process critical information resources Giprotyumenneftegaz uses single network-attached storage based on external virtual redundant array of inexpensive disks of corporate Class HP EVA.
The system provides for storage and centralized access to the most valuable information resources of the institute.
Central printing post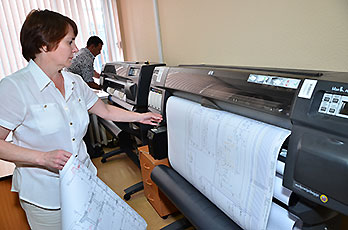 The institute has a centralized system of printing, copying, replicating and collating design and estimate documentation. Central printing post performs these functions.
Organization of single process cycle:
printing – copying – replicating – archiving – collating – delivering to the Customer
within one institute service division without using resources of design departments for unspecialized works.
GTNG has more than 30 various printing devices including wide format plotters and highly efficient engineering stations.
---
Up