Resources
Our people
More than 850 highly qualified employees allow Giprotyumenneftegaz to working on the several large projects simultaneously.

Around 80% of our talent pool are front-line specialists:
Engineers and Researchers;
Field Surveyors and Explorers;
Scientists;
Construction Supervisors, Consultants IT Developers
15 PhD and MBA holders.
Our people are one of GTNG most important competitive advantages.
IT
Our most powerful software/hardware facilities (among Russian industrial research and engineering centers) allow us to carry out development on par with world best practice.
Hardware & Software
Design engineering system consists of more than 1000 workstations.
Integrated CAD/PDM system with internet/intranet support ensures effective and secured multi-access for all specialists and control design engineering at all stages.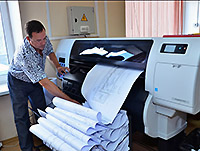 Design engineers use advanced software from major Russian and international companies.
We developed our own state-of-the art engineering software based on Bentley for oil & gas project solutions.
А4-А0 Printing and copying is provided by highly effective printing equipment.
Integrated approach
Field development and facilities engineering are considered as a continuous process of information flow - data gathering and analysis, adoption of solutions based on the experience, knowledge, regulations.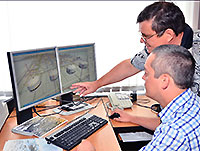 IT cover all stages:
feasibility study;
frond-end engineering design;
investment analysis;
detail/construction design;
project execution plan.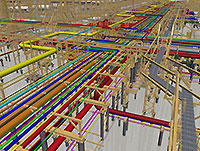 IT is applied in-all parts of design engineering; from engineering survey to the project delivery including:
field survey;
data post-processing;
general layout;
process engineering;
architectural and structural design;
power supply;
communication and process control systems;
cost estimates and budgeting;
environment protection plan;
defence and emergency plan;
project charter.
Optimization of currently employed technology and the use of new modern IT is essential to support and develop the information space for design engineering and survey.
Key requirement for IT application is to integrate all projects into one process flow within the company's information space.
Today, IT is significantly integrated into design engineering and survey activities and represent in fact a foundation for Our Company ensuring effectiveness of all operations.
Functionally, the company information space is formed by a set of engineering, software and organizational solutions, allowing our specialists to deal effectively with the tasks.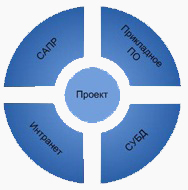 Key features of successful functioning and development of the information system have become:
mandatory storage of information in databases;
unified access through intranet to the system resources;
integrated software for project documentation;
ultimate integration of all software and other system elements.
Drilling equipment
We use the following equipment: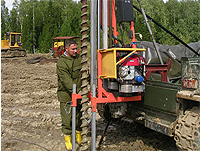 UBSHM-1-20, Small-scale drilling rig made by Kurganavtoremont is used for vertical drilling.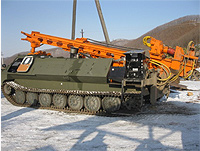 URB-2М wildcat drilling rig is designed for drilling exploration; hydro- and engineering-geological, geophysical, cored wells and pits for various purposes.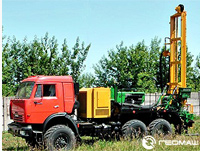 PBU-2 multipurpose drilling rig is designed for drilling engineering and geological, seismic, hydro-geological prospecting wells.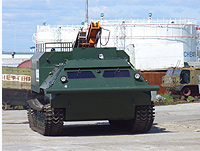 BGM-1M hydraulic drilling rig is designed for vertical and directional drilling.
Survey equipment
We use the following equipment for engineering and hydrometeorological survey:
portable radio stations;
navigators;
echo-sounders;
hydrologic flow meters;
ice screws;
boats.
---
Up