Solving urgent problems in oil & gas industry
Solving urgent problems in oil & gas industry
Permafrost soils. Arctic region development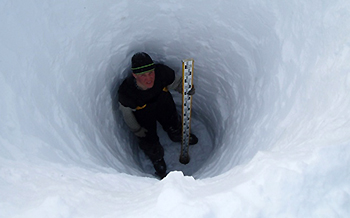 We develop full-scale engineering line for the fuel and energy complex facilities located in regions with permafrost soils.
Now hydrocarbon production is moving to the Arctic regions. It requires developing new engineering solutions.
Today the GTNG specialists work in this direction based on the experience got during four decades.

Unique geocryology (permafrost studies) school is created on the base of GTNG and it is developing. We work on creating data base of all key characteristics necessary for engineering the fuel and energy complex facilities located in regions with permafrost soils.

Lab of permafrost thermal physics develops methods for scientific support of facilities located on soft soils at extremely low temperatures.

When developing new engineering solutions the GTNG specialists take into consideration all factors influencing process flow, among them:

continuous permafrost, wide fluctuations of air temperature (more than 100оС);
application of high reliability solutions;
permafrost bearing capacity preservation by maintaining temperature regime for facilities during the whole service life;
development and application of new thermal insulating materials;
process solutions for control of heat exchange between equipment and the environment.
In the future we will build experimental sites for studies of freezing and thawing processes, and also develop a document regulating engineering and constructing the fuel and energy complex facilities in Arctic regions. According to our opinions this regulatory document shall include the requirements to:

space, aerial surveying and photomapping;
detailed survey, field survey, determining permafrost properties and its behavior at a particular site;
determination of soil thermal parameters that influence freezing and thawing processes, and interaction with facilities;
monitoring soil temperature, stress and permafrost condition for all stages of facility operation;
identification of methods and software used for engineering facilities on permafrost ground and obligatory for design calculations;
list of obligatory heat engineering of facilities for various climatic, geological and permafrost conditions;
application of various engineering solutions to prevent soil thawing, preserve temperature regime of facilities operation, effective use of heat.
Facility intellectual 3D model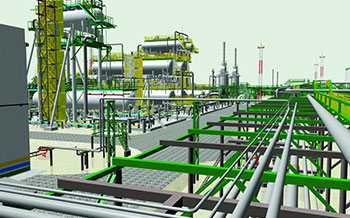 We proposed to change infrastructure 3D model by information model of life cycle for designed and built facilities.
Facility intellectual information model ensures:
managing project information;
solving simulation problems when operating the facility;
scheduling repair and maintenance works;
scheduling the facility upgrading.
Information model of field development facilities within oil and gas producing company allows the customer:
monitoring actual state of processes on the field;
controlling remotely works on the facility;
reducing significantly costs.
It allows solving remotely a large number of tasks, especially, it is important for fields located in Arctic regions where each work place is very expensive.
Undoubtedly, principal user of the facility intellectual model is the operating company; it can carry out efficiently the following activities:
scheduling diagnostic and repair works;
considering plans for the facility enlarging and reengineering;
logistics of cargo transportation within the field and a particular site;
developing plans for emergency response measures;
calculating demand of materials and equipment etc.
Additionally, the model will be useful for a wide range of service companies carrying out:
delivery of equipment and parts;
construction and mounting works;
equipment certification;
control and supervision functions;
facility maintenance.
Development of effective technologies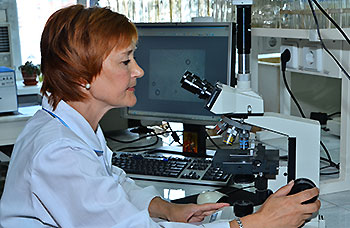 Having all kinds of resources we can develop high level engineering and process solutions, they become the base for new advanced technologies used in companies of our customers.
Development and search for innovative solutions such as energy efficiency of field systems operation, environmental friendly facilities, optimization of some operating costs and others is one of the institute main scientific tasks.
GTNG engineering solutions include the following:
modern technologies and process equipment (units with coalescent elements, units with combined heating, degassing and dewatering etc.);
new technologies for gathering and processing associated oil gas;
new technologies for fuel gas processing;
engineering solutions for hydrogen sulfide removal in the course of oil and gas processing for the following transportation;
new effective chemicals for oil output stimulation and process solutions for their application;
modern solutions on equipment thermal insulation on permafrost ground;
validated engineering solutions on corrosion protection for external and internal surface of tanks and vessels, intra-site and process pipelines.
New engineering solutions are validated both technically (lab and field tests), and economically (feasibility studies, option comparison and selection of the optimal one).
All this allows the Customer to increase oil field facilities operation effectiveness by:
bringing down capital and operating costs;
decreasing oil and associated oil gas losses;
reducing power inputs;
ensuring operation reliability.
Up