Comprehensive engineering and developing of oil & gas fields
Comprehensive engineering and developing of oil & gas fields
Integrated engineering
is one of our leading areas. Process Engineering Complex comprises three process departments:
Oil & Gas Gathering and Transporting Engineering Department (OGGTED);
Oil & Gas Processing Engineering Department (OGPED);
Industrial & Environment Safety Department (IESD).
Process Engineering Complex staff number is more than 150.
Application:
oil & gas gathering and transporting;
oil & gas processing;
Plot Plan developing;
industrial plant engineering;
EIA, Civil Defense and Emergency Management;
Industrial Safety Declaration developing.
We use advanced engineering computing technologies for development of oil & gas fields by leading foreign companies: Bentley, Microsoft etc. Their application together with modern design software such as HYSYS, Flare Net, START and others allows selecting optimal process solutions and providing for high operation reliability of facilities under design.
GTNG Process Engineering Complex specialists have participated in development of major part of projects for big oil companies in Russia, and also for some foreign companies.
Geography of accomplished projects - Komi, West and East Siberia, Yakutia, Sakhalin. The largest projects accomplished recently are as follows:
Plot Plan for the Samotlor field,
Development of the Priobskoye and Sugmutskoye fields,
Development of pilot operation for Talakan gas & oil field, v
Main gas pipeline (route from the Nakhodka field to GCS1-2 Yamburg);
Development of Vostochno-Urengoiskoye and Novo-Urengoiskoy gas condensate fields;
Oil & gas project Sakhalin-1.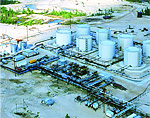 Oil & gas gathering and transporting:
development of well pads and exploratory oil, gas, gas condensate and injection wells;
engineering well pad pump stations (WPPS);
engineering all types of linear pipelines: main oil and gas pipelines, field oil and gas pipelines, high pressure and low pressure gas lines, stable and unstable condensate lines, low pressure and high pressure water lines;
engineering facilities on linear pipelines;
performing process design calculations for linear pipelines related to hydrate formation, and condensate dropout using software HYSYS;
engineering longitudinal profiles of linear pipelines using software Profile;
carrying out all kinds of hydraulic design;
carrying out strength and stability design calculations for linear and site pipelines;
engineering site facilities using 3D models with software MicroStation.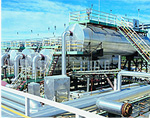 Oil & gas process engineering:
booster pump stations (BPS);
local processing facilities (LPF);
central processing facilities (CPF) and water processing facilities (WPF);
oil metering stations (OMS);
oil pump stations;
tank farms;
oil products storing facilities;
flare systems;
low and high pressure compressor stations (CS);
gas supply for gas piston and gas turbine power plants (GPPP & GTPP);
gas treatment units and their tie-in to mini-refineries.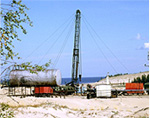 Field Plot Plan engineering:
Engineering is based on the terrain 3D model. 3D models of sites and intra-field utilities on Plot Plan platform allow carrying out dimensional analysis of facilities mutual alignment and mutual impact.
booster pump stations;
local processing facilities;
tank farms;
compressor stations;
oil pump stations;
GPPP & GTPP;
well pads;
camps;
substations;
helipads;
landfills;
warehousing facilities;
filling stations;
other facilities.
Plot Plan engineering comprises territory leveling and improving, locating buildings, facilities, roads and also enterprises layout within industrial area.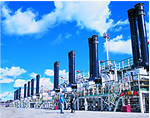 Environment protection and industrial safety:
environment protection measures for capital facilities;
environment protection measures for linear facilities;
fire safety measures;
emergency situation management (both for natural and man-made emergencies);
Risk Analysis;
Industrial Safety Declaration;
reclamation of disturbed land plots.
Up