Local Processing Facility - North. Vankor Field
Local Processing Facility LPF-North is designed for the following processes:
separating gas-saturated oil emulsion coming from producing wells
heating oil emulsion for intensification of oil dewatering and reservoir water processing
processing oil with output water content maximum 10%, and possibility of processing oil
processing the LPF reservoir water and make-up water from wells to inject it in the RPM system
transporting oil gas of separation stage I without compression to power plant
compressing gas of medium and low separation stages by compressors for its supply to oil gas gathering and transporting system
metering oil, gas and reservoir water
preparing sand (sludge)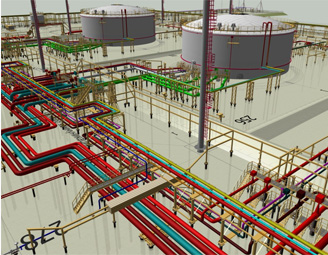 To ensure all these processes the following facilities will be built on the LPF-North site:
local processing facility
water processing facilities
low pressure compressor station
sand (sludge) preparing facilities
Engineering was made using the terrain 3D model. The project includes 3D models of sites and intra-site utilities based on the Plot Plan platform, and 3D analysis of facilities mutual layout and impact.
The project documentation provides for installing the automated process control system (SCADA) for the Local Processing Facility (LPF) – North of the Vankor field.