The measures of heat exchange variation on the earth surface and their influence on the temperature distribution in the soil
October 1, 2012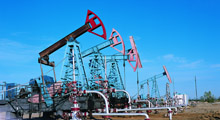 The measures of heat exchange variation on the earth surface and their influence on the temperature distribution in the soil
Oil Industry Journal № 10/12 has published an article by V.G. Kondratiev , A.G. Perekupka, S.S. Primakov, A.S. Petrova.
The heat exchange between the atmosphere and the earth surface has a significant effect on the temperature distribution in the soil. The conditions
variation on the ground surface leads to change of thermal regime and permafrost soil thickness. The calculations taking into account the key factors of
the temperature regime forming allows to predict the temperature distribution in the soil. Thereby it is getting possible to correctly regulate the thermalphysic situation in the soil by the measures of heat exchange variation on the earth surface.
.