Optimizing the control of pumping unit of formation-pressure maintenance system
July 26, 2014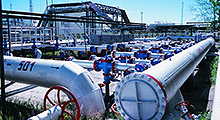 Optimizing the control of pumping unit of formation-pressure maintenance system
Oil Industry Journal № 07/2014 has published an article V.P. Fraishteter, I.A. Nissenbaum, M.K. Veliev (Giprotymenneftegaz, JSC, HMS Group) on Optimizing the control of pumping unit of formation-pressure maintenance system.
Well pad pump station (WPPS) pumping units are the elements of the high energy waste system. One of the reasons of the specified circumstance is a low level of pump electrical drive controllability. The article presents methods and a control system enabling to optimize operation of WPPS for power and process efficiency increase of the formation-pressure maintenance system
by applying variable-frequency electric drives. Stated, that application of variable-frequency electric drives on all booster and two main pumping units is the most reasonable.